Liv.52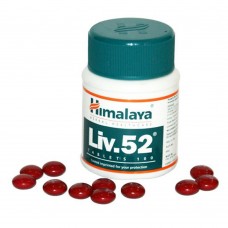 Natural herbal preparation Liv 52 DS - double strength. Provides a general strengthening of the liver, stimulates the regeneration of liver cells and biosynthetic function. It is used for the prevention and treatment of liver diseases such as cirrhosis and hepatitis. Liv.52 significantly weakens the effect of lipid peroxidation on hepatocyte membranes. Reduces the effect of toxins on liver cells. Provides a protective effect of the liver: anti-toxic, anti-inflammatory, choleretic and antioxidant actions.

It improves appetite, normalizes digestion. It has a choleretic, antioxidant, anti-inflammatory and diuretic action. Reduces degenerative, fatty and fibrotic changes, enhances intracellular metabolism.

The drug regulates the level of plasma proteins in the blood, normalizing the ratio of albumin / globulin. Provides normalization of plasma transaminases, cholesterol, triglycerides, reducing the manifestations of dyslipidemia. Reduces bilirubin and alkaline phosphatase. Increases the ability of the liver to deposit glycogen.

Improves colloidal properties of bile, prevents the formation of gallstones. Improves the contractile function of the gallbladder.

When alcoholic liver damage, the drug reduces the level of ethanol in the blood and urine, increases the activity of acetaldehyde dehydrogenase, which helps reduce the level of acetaldehyde, prevents the binding of acetaldehyde to cell proteins, accelerates its excretion. Reduces the risk of "hangover" syndrome. Such an effect of the drug is due to the antioxidant and membrane stabilizing properties of its plant components.


Indications for use Liv.52:
Acute, chronic, infectious and toxic hepatitis;
Cirrhosis of the liver, pre-cirrhotic states;
Fatty degeneration of the liver; - Cholecystitis;
Anorexia, general exhaustion, weight loss in children;
Prevention of toxic liver damage caused by antibiotics, anti-tuberculosis drugs, antipyretic drugs, chemotherapy, radiation therapy.



Attributes
Package
100 pills
Substance
Various Herbal Ingredients