Cabgolin 0.5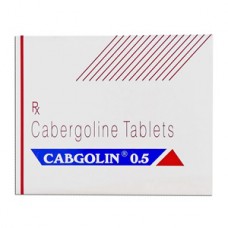 Cabgolin 0.5 mg (active ingredient) - inhibits the secretion of prolactin, in addition, it increases libido and erection, significantly reduces recovery time between sexual acts, and also lowers blood pressure. Cabgolin 0.5 refers to derivatives of ergot alkaloids; according to the mechanism of action, it is an agonist of dopamine (D2) receptors. It is a more modern and safer analog of bromocriptine.

The drug allows you to almost completely eliminate the main side effects of steroids such as Deca (deca-dik) and Trenbolone. One of the effects caused by a decrease in the concentration of prolactin is a decrease in fluid retention in the tissues, which gives an increase in leaner muscle mass.


Mechanism of action

The main mechanism of action of Cabgolin 0.5 is the activation of D2 receptors, which are located on the lactotrophic cells of the pituitary gland. The excitation of dopamine receptors in this area leads to a decrease in the secretory function of cells producing prolactin.

In addition, interaction with other receptors was established: D3, D4, 5-HT1A, 5-HT2A, 5-HT2B, 5-HT2C, α2B. Antagonism with α2B receptors additionally explains the positive effect on erectile function (expansion of the cavernous bodies occurs).


Attributes
Package
0.25mg (4 pills)
Substance
Cabergoline (Cabaser)