Boldebolin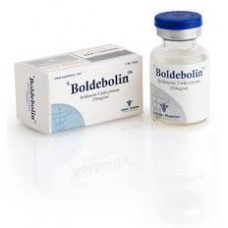 Boldebolin is an anabolic and androgenic steroid from the Indian pharmaceutical company Alpha Pharma. The boldebolin release form is injections, 10 ml at 250 mg / ml and 10x1 ml at 250 mg / ml. The main active ingredient is Boldenone Undecylenate, which is chemically a modified testosterone molecule, which has a double bond between the second and first carbon atoms. The essence of this "improvement" is that it allows us to endow boldenone with a degree of anabolic effects equal to testosterone, but to halve the androgenic factor. However, some studies show that the steroid is still slightly inferior in effect to testosterone.

In addition to effectively building muscle mass and burning subcutaneous fat, which causes muscles to become more prominent, Boldebolin is also preferred, because Boldebolin, which is its main component, has low androgenic properties. This indicator allows the use of this drug for beginners and even women, because the risk of side effects from its use is extremely low. In particular, if you use Boldebolin under the clear guidance of a professional trainer with a well-defined dosage and prescribed training program. At the same time, we must not forget that the female dosage of using the drug Boldebolin is several times different from the male one.

Most often, as an effective male dosage, athletes use from 400 to 600 milligrams of Boldebolin per week, and the duration of the course is usually from 8 to 10 weeks. Large dosages and an increase in the duration of use do not make any sense at the same time, since it will not give more significant results, and only increase the likelihood of side effects.
The use of Boldebolin also affects the saturation of muscles with oxygen, due to an increase in the level of red blood cells in the blood. The same indicator allows you to increase strength and endurance, which is very important for longer and more effective workouts with the use of large loads.



Attributes
Package
10 ampoules (250mg/ml)
Substance
Boldenone undecylenate (Equipose)