Aquaviron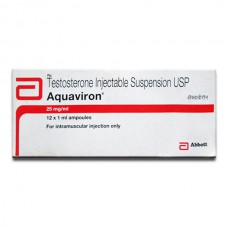 Testosterone suspension Aquaviron is AAS without ether, in fact it is "testosterone on water." This drug can not be combined with other steroids on an oil basis, due to the fact that Testosterone Suspension is a water-based drug, it is also not recommended to put this drug in places where oil preparations are introduced, as there is a chance to get an abscess.

Since Aquaviron is non-ether, it is included in the work immediately and has a short outage, which is why this drug is very popular.

The working dosage starts at 50mg, mostly the injection is done 30-60 minutes before the workout.

As for side effects Aquaviron. Endogenous testosterone production is already significantly lower - the introduction of several weeks may result in testicular atrophy and temporary impotence. Women experience the usual virilization symptoms. Extremely increased sexual desire in both sexes, often from the first day of administration. The same can be said about the effect of the drug on the potential of aggression. Men are also at risk: gynecomastia.

Since the steroid molecules do not easily combine with water, the drug must be shaken well before injection. If the injection is not done for more than 30 minutes, testosterone is separated from the aqueous solution in the form of a white, crystalline powder.



Attributes
Package
12 ampoules (25mg/ml)
Substance
Testosterone suspension