Eutropin LG 4IU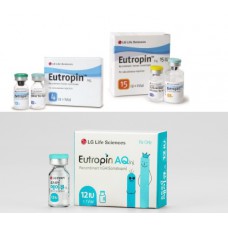 Eutropin LG 4IU is a somatotropic peptide hormone used in bodybuilding to build muscle relief.

The average content of human blood is 1-5 ng / ml, while increasing the concentration, it reduces the fat layer, accelerates muscle growth and wound healing, strengthens the bones and promotes their growth, rejuvenates, strengthens the immune system and increases the glucose content in the blood.


How to take growth hormone in bodybuilding?

Growth hormone has found widespread use in sports, due to its ability to reduce fat and increase muscle. In addition, taking the drug reduces the number of injuries, as it significantly strengthens the bones, cartilage and tendons.

To improve muscle relief, muscle growth hormones should be taken by injection for 5ED a day, from the second week the dosage of the drug can be doubled (with no side effects), making 2 injections per day. Optimally administered drug immediately after sleep and after exercise.
Eutropin LG 4IU course takes from 3 to 6 months.

For a set of muscle mass and relief, it is recommended to include testosterone enanthate (250-500 mg), boldenone (400 mg) or sustanon (250 mg) in the course of growth hormone preparations. Duration of reception is 8 weeks.

To improve the relief of the muscles - Winstrol or oxandrolone 30 mg daily. A prerequisite is the observance of a sports diet.

For effective fat burning - thyroxine (100-200 mcg per day) and clenbuterol.



Attributes
Package
1 vial of 4IU
Substance
Human Growth Hormone (HGH)