Altamofen-20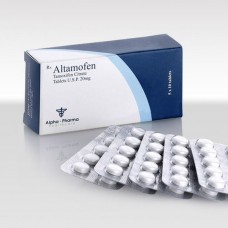 Pharmachologic effect Altamofen 20mg


Tamoxifen is a non-steroidal anti-estrogen agent, which also has weak estrogenic properties. Its action is based on the ability to block estrogen receptors. Tamoxifen, as well as some of its metabolites, compete with estradiol for binding sites to the cytoplasmic estrogen receptors in the tissues of the breast, uterus, vagina, anterior lobe of the pituitary gland and tumors with a high content of estrogen receptors. In contrast to the estrogen receptor complex, the tamoxifen receptor complex does not stimulate DNA synthesis in the nucleus, but inhibits cell division, which leads to regression.


Reviews of Altamofen 20mg

Very often, non-sportsmen speak about the drug, because Altamofen 20mg has been used for many years by postmenopausal women with estrogen-receptor-positive status and patients with breast cancer. As for athletes, they note a pronounced anti-estrogenic effect. Despite the wide range of possible side effects, reviews of Tamoxifen indicate that negative reactions occur extremely rarely.

Women athletes talk about the impossibility of using the drug during pregnancy. In addition, it can prevent the implantation of the egg into the wall of the uterus. Reviews of Tamoxifen from entry-level athletes are quite rare, since non-professionals often get by on simple AAC solo courses that do not require PCT.



Attributes
Package
20mg (50 pills)
Substance
Tamoxifen citrate (Nolvadex)