Induject-250 (ampoules)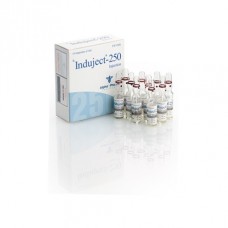 Induject-250 ampoules from Alpha Pharma - a drug based on a mixture of testosterones, which have a powerful androgenic and anabolic effect. Available in the form of a liquid in ampoules of 1 ml for injection.

A feature of Induject-250 ampoules Alpha Pharma is the presence of a steroid complex. It consists of phenylpropionate, propionate, isocarpoact, and also decanate of tetosterone, enhancing the action of other components. Due to the delayed onset of exposure to each component, the athlete's hormonal level is maintained at a consistently normal level. At the same time, the number of injections is minimal, and its local action is painless.

When using Induject-250 ampoules, the following effects are achieved:
increase in the volume of muscle mass up to 6 kg per solo course
prevention of muscle fiber breakdown due to a pronounced anti-catabolic effect;
increase in red blood cell mass to increase the anaerobic threshold of the bodybuilder;
increased sexual desire, which passes after the termination of the course.

Due to the fact that the time of drug discovery during doping tests is insignificant (up to 3 months), its use by professional athletes is possible only in preparation for competitions or during the rehabilitation period.


Side effects

Premature puberty, anomalies and prostate cancer, increased sexual arousal and increased erection, penis enlargement, priapism, oligospermia, reduced ejaculate volume, sodium and water retention, premature closure of bone growth zones; headache, depression, anxiety, sleep disturbance, paresthesia, gastrointestinal bleeding, nausea, cholestatic jaundice, and other androgenic effects (including hirsutism, seborrhea, acne).


Contraindications

Hypersensitivity, established or suspected carcinoma of the prostate and / or mammary glands, nephrosis or nephrotic nephritis phase, hypercalcemia, edema, impaired liver and kidney function, diabetes mellitus, hypertrophy of the prostate gland with symptoms of impaired urination, cardiac and coronary insufficiency, myocardial infarction, myocardial infarction, myocardial infarction, myocardial infarction, myocardial infarction, myocardial infarction, myocardial infarction, heart attack and heart failure atherosclerosis in elderly men, pregnancy, breastfeeding.



Attributes
Package
10 ampoules (250mg/ml)
Substance
Sustanon 250 (Testosterone mix)