Fertigyn HP 5000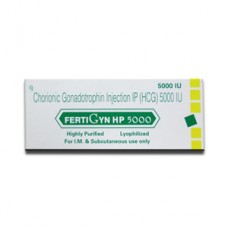 This medicine has a gonadotropic effect, mainly luteinizing. Stimulates the production of sex hormones in the testicles, ovaries. Stimulates ovulation in women, spermatogenesis - in men. Strengthens the development of sexual organs, secondary sexual characteristics.
Fertigyn HP 5000 is prescribed:
in the hypofunction of the genital glands of men or women, caused by impaired pituitary, hypothalamus activity;
women: with anovulatory infertility, insufficiency of the corpus luteum (with normal estrogenic function of the ovaries), for the induction of superovulation during reproductive techniques, with habitual miscarriage, with a threatened spontaneous abortion
y men: with hypogenitalism, eunuchoidism, with testicular hypoplasia, cryptorchidism, with adiposogenital syndrome, pituitary nanism, sexual infantility, with oligoastenospermia, azoospermia;
with the aim of differential diagnosis of anarchism and cryptorchidism in boys and with the aim of evaluating testicular function in hypogonadotropic hypogonadism.
Contraindications
Fertigyn HP 5000 cannot be administered:

allergies to the components of the drug;
with pituitary tumors;
with hormone-active tumors (including androgen-dependent) of the sex glands;
with early menopause;
in the absence of genital glands (congenital, after surgery);
with thrombophlebitis;
during lactation;
ovarian cancer;
hypothyroidism;
with adrenal insufficiency;
with hyperprolactinemia;
with obstruction of the fallopian tubes.


Most athletes still take HCG at the end of the steroid course, so as not to "break", i.e. to ensure the best transition to "natural training". Slow and gradual reduction of the steroid dose is still the main prerequisite. Although HCG very quickly leads to a significant increase in the level of endogenous testosterone, it is, unfortunately, not a panacea in the fight against the loss of strength and mass at the end of the steroid course. As has often been observed, the athlete is subject to a slow-moving slam. This is claimed by the American doctor Dr. Mauro Di Pasquale in his book "Drug Use in Amateur Sports": "Athletes use HCG to mitigate the negative phenomena that appear when they stop taking steroids for a long time. These athletes believe that using HCG will help them recover faster testosterone production in the testicles and bring it back to normal.

Attributes
Package
1 vial of 5000IU
Substance
HCG