Azab 500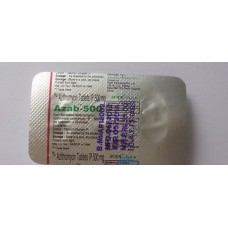 What is Azithromycin Azab 500 and what is it used for?

Each Azithromycin Azab 500 tablet contains 500 mg of the active substance azithromycin and excipients: sodium starch glycolate, microcrystalline cellulose, talc, sodium lauryl sulfate, magnesium stearate, corn starch; shell - Opadry II pink (polyvinyl alcohol, macrogol, titanium dioxide, talc, red charming (E 129), tartrazine (E 102)).

This drug belongs to the group of macrolide antibiotics. Antibiotics inhibit the growth of microorganisms that cause infections.

Azithromycin is used in the following cases:

Treatment of infectious diseases caused by microorganisms sensitive to Azithromycin:

Upper respiratory tract infections (acute and chronic pharyngitis / tonsillitis, sinusitis, otitis media);

Lower respiratory tract infections (acute bacterial bronchitis, exacerbation of chronic bronchitis, community-acquired bacterial pneumonia, including those caused by atypical pathogens);

Infections of the skin and soft tissues (uncomplicated forms of achne vulgaris, chronic migrating erythema (initial stage of Lyme disease), erysipelas, impetigo, secondary pyodermatosis);

Sexually transmitted infections (urethritis, cervicitis);

Diseases of the stomach and duodenum 12 associated with Helicobacter pylori.

Do not take Azithromycin in the following cases:

You are allergic to azithromycin, other macrolide antibiotics (erythromycin, clarithromycin) or to any other component of the drug;

If you take ergot alkaloid derivatives: ergotamine, dihydroergotamine (ergotoxicity is possible).



Attributes
Package
500mg (3 pills)
Substance
Azithromycin