Astralean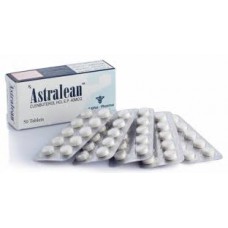 Clenbuterol Astralean 40mcg is a beta-receptor agonist drug used in the treatment of asthma and bodybuilding for the purpose of losing fat. In some cases, it can also be used to improve performance in endurance exercises.
When to use clenbuterol Astralean
Clenbuterol should be used only when the loss of subcutaneous fat should accelerate over a relatively short period of time. For example, if the need or intention is to lose only 0.5 kg of fat per week, then there are better means to do this than to use clenbuterol. You need to use Clenbuterol only when you want to lose more than 1 kg of fat per week.
Astralean Dosage
The effective dose of clenbuterol starts from 20 µg / day as a minimum value to 40-140 µg / day, and is the maximum dosage. I think it is best to start with 40 mcg / day and evaluate the results on an ongoing basis, increasing the dose by 20 mcg at a time, as needed. Many users adjust the dosage to a level where hands begin to tremble, but fat loss can be improved noticeably at doses well below this point.

The use of clenbuterol should be cyclical, not used continuously or for long periods of time, but there is no exact picture of its use. The period of use is usually from 2 to 8 weeks. Use periods of 2 weeks or more in dosages well in excess of 40 µg / day will be less effective. This can be avoided by drinking 1 mg of ketotifen once a day, preferably before leaving.



Attributes
Package
40mcg (50 pills)
Substance
Clenbuterol hydrochloride (Clen)