Aromex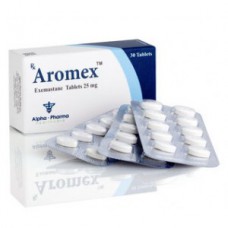 Characteristic substance Aromex
Steroid Aromex inhibitor III generation, similar in structure to androstenedione. Crystalline powder from white to white with a yellowish sheen color. It is soluble in N, N-dimethylformamide, soluble in methanol, practically insoluble in water. Molecular weight - 296.41.


Pharmacology

Pharmacological action - antitumor, antiestrogenic.
Inhibits aromatase (irreversibly binds to the active center of the enzyme and causes its inactivation) and blocks the formation of estrogen. It has anti-estrogenic effect, does not possess progestogenic and estrogenic activity, does not affect the synthesis of cortisol and aldosterone in the adrenal glands. In high doses, shows a slight androgenic activity (due to the 17-hydro-derivatives). Increases the level of LH and FSH on the basis of feedback: a decrease in the concentration of estrogen stimulates the secretion of gonadotropins in the pituitary gland.

Causes a dose-dependent decrease in the content of estrone, estradiol and estrone sulfate. A decrease in serum estrogen concentration in postmenopausal women appears at a dose of 5 mg and reaches a maximum (decrease by more than 90%) at a dose of 10–25 mg (the maximum decrease in estrogen level is observed within 3 days). In postmenopausal patients with breast cancer, when taking exemestane at a dose of 25 mg / day, the overall level of aromatase was reduced by 98%.


Aromex Dosage

Assign inside. For adults and elderly patients, the recommended dose is 25 mg 1 time / day, preferably after a meal.

For early breast cancer, drug treatment is recommended to continue until the total duration of the successive adjuvant hormone therapy reaches 5 years. Treatment of patients with advanced breast cancer is long. If there are signs of progression of the tumor disease or if contralateral breast cancer appears, treatment with Aromasin should be stopped.

In case of hepatic or renal insufficiency, dose adjustment is not required.



Attributes
Package
25mg (30 pills)
Substance
Exemestane (Aromasin)